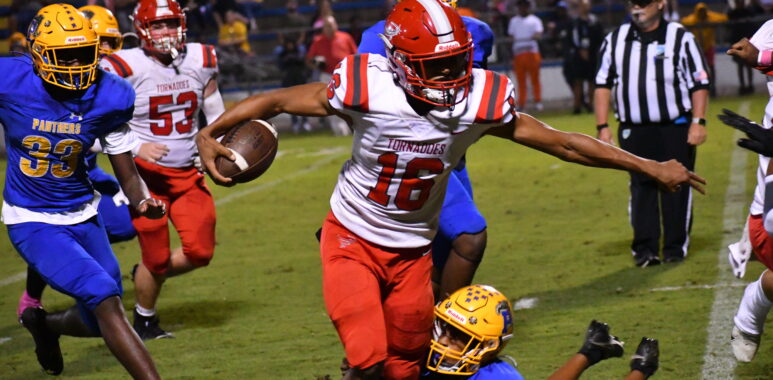 2022 FHSAA Class 2S State Championship Game Preview
The Cocoa Tigers are seeking their fifth FHSAA State Championship since 2008. Cocoa won the Class 3A title in 2008, consecutive Class 2A titles in 2009 and 2010, and the Class 4A title in 2016. During that span, the Tigers also have finished as state runner up three times in Class 4A during the 2017, 2018, and 2021 seasons. This season is their 24th overall appearance in the FHSAA playoffs, including 20 consecutive appearances. The most impressive fact about the current streak is: they have appeared in the state semifinals16 straight years! 
Cocoa finished the regular season 6-3, but played a schedule which featured seven opponents that qualified for the state playoffs. The Tigers faced: Jones (11-3), St. Thomas Aquinas (13-0), Melbourne (9-3), Sanford Seminole (9-3), Titusville (7-4), Palm Bay (8-4), and Rockledge (9-3). That difficult schedule prepared Cocoa for the post season.
The Tigers have cruised through the 2022 FHSAA Class 2S playoffs so far. In four games, they have outscored their opponents 167-37! In round one, they crushed Dunnellon 52-6, trounced Palm Bay 49-3 in round two, thrashed previously unbeaten South Sumter 35-7 in round three, and defeated a Bradford 31-21 in the state semifinals.
Offensively, Cocoa likes to do damage through the air with senior quarterback Blake Boda throwing to myriad of targets. Boda has passed for 3,772 yards and a whopping 47 touchdown passes! He distributes the ball to seniors: Kyon Calhoun (407 receiving yards, 9 TDs), a 6'5 target that holds a scholarship offer from South Florida, Cedrick Hawkins (671, 5), who is committed to play defensive back at Ohio State, and Jaden Edgecombe (391, 4). Boda also looks for juniors: Ric'Darious "DayDay" Farmer (793, 9), who has 15 FBS scholarship offers and CJ Bragg (300, 6). Sophomores Jayvan Boggs (702, 6) and Nicholas Teeter (230, 6) hold scholarship offers from South Florida and provide Boda with two more targets in the passing game. The Tigers running game is led by senior running back Anthony Bridgewater (614 rushing yards, 5 TDs) and sophomore Malachi Coney (373, 3 TDs). Boda and Hawkins have also contributed three rushing scores each.
On defense, leading the charge for Cocoa are junior linebackers: Samadrae Hawkins, the younger brother of Cedrick Hawkins, Dai'veon Parham, and Joshua Brown. Samadrae has 88 tackles, 10 tackles for loss, and caused five fumbles. Parham added 78 tackles and 8.5 tackles for loss. Brown has contributed 53 tackles. Senior D'andrevius Dorsey (36 tackles, 15 TFLs, 8.5 sacks) leads the defensive line, along with juniors Davarrius Robertson (34 tackles, 17 TFLs, 5 sacks) and Loren Ward (27 tackles, 11 TFLs, 7 sacks). The secondary is led by three seniors: Cedrick Hawkins, Caleb Dobbs, and Jameer Smith. Hawkins provided 44 tackles and an interception, Dobbs added 50 tackles and two interceptions, and Smith has four interceptions.
The Florida High Seminoles are making their second appearance in a FHSAA State Championship Game. The Seminoles finished as state runner up in Class 3A in 2019. This will be their 22nd playoff appearance, which includes a current streak of seven consecutive appearances.  
Florida High is a perfect 14-0 this season and five of their 10 regular season opponents participated in post season play. The Seminoles notched wins over playoff qualifiers Trinity Catholic, Madison County, Munroe, Chiefland, and Lincoln during the regular season.
The Seminoles have outscored their playoff opponents 157-99 this post season. They dominated South Walton 63-44 in round one, edged Pensacola Catholic 18-14 in round two, blasted Suwannee 38-13 in round three, and defeated Bishop Verot 38-28 in the semifinal round.
On the offensive side of the ball, the Seminoles have a two-headed monster in the backfield. Junior Micahi Danzy has rushed for 1,585 yards and 17 scores. Senior Rhyder Poppell has gained 975 yards and scored 13 times. When Florida High passes, they rely on the arm of junior quarterback Jeremy Johnston. He has thrown for 2,416 yards, 23 touchdowns, and he rushed for 211 yards and two scores. His main target is do it all senior Brooks Hickman who has 864 receiving yards and seven scores. Hickman also added two rushing touchdowns, threw a touchdown pass, and he kicks and punts. Other viable targets in the passing game are juniors Ashton Hampton (630 receiving yards, 9 TDs) and Keisean Inman (285,1). Poppell (288, 5) provides a target out of the backfield.
Defensively, Florida High has recorded an eye-popping 168 tackles for loss this season! Senior defensive tackle Eli Williams leads the way with 68 tackles and 23 tackles for loss. He is joined on the defensive by a trio of sophomores in Maurice Adams Jr. (83 tackles, 15 TFLs), Nias Dorsey (62,11), and Bryson Merkel (61,11). The Seminoles also have a quintet of linebackers that are capable of making plays. Seniors Ryan Knight (48 tackles, 19 TFLs, 11 sacks) and Christopher Cotton (91 tackles, 17 TFLs) lead a linebacking group that includes juniors Darrick McGhee Jr. (83 tackles, 12 TFLs) and Rolando Robbins II (36 tackles, 8 TFLs, 6 sacks). Sophomore Josiah Broxton leads the team in tackles with 95, including 16 behind the line of scrimmage. The secondary standouts are senior DJ Barnes who has tallied 26 tackles and an interception, along with junior Tyson Howard (65 tackles, 3 interceptions).
PREDICTION:
COCOA 37
FLORIDA HIGH 24