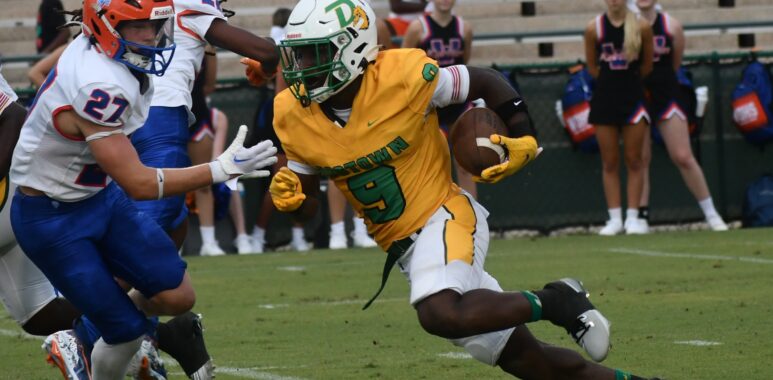 Bulldogs Secure Strong Start with Convincing Win Over West Orange
The Deland Bulldogs kicked off their season on a high note, overpowering the West Orange Warriors with a resounding 42-21 victory. The Bulldogs showcased an impressive display of offensive prowess to establish their dominance during the Kickoff Classic contest.
Leading the charge for the Bulldogs was Javon "Big Boss" Ross, who left an indelible mark on the game by scoring an impressive four touchdowns in the first half alone. Ross proved to be a versatile threat, making significant contributions both in the air and on the ground. His exceptional performance included catching passes that covered distances of 69 and 57 yards, that went for scores. Ross's agility was further evident as he found the end zone on running plays of 14 and 2 yards, effectively capitalizing on scoring opportunities.
Quarterback T.J. Moore also demonstrated his skill set by not only orchestrating the offense but also contributing directly to the scoreboard. Moore showcased his accuracy and vision by tossing two touchdown passes to Ross, while also adding a five-yard touchdown run to his name. The dynamic offensive display was further enriched by Marceles Carey, who added a three-yard rushing touchdown in the middle of the fourth quarter, solidifying Deland's commanding lead.
Wyatt Darlington's noteworthy contributions on the ground and in the ensured that the Bulldogs maintained their offensive momentum. The team also welcomed a new talent acquisition in the form of Justin Brown Jr., who swiftly integrated into the Deland defense. Brown Jr.'s impact was immediate as he recorded a first quarter interception and forced a fumble, underlining his versatility as a guy that can cover and hit.
Despite their triumphant victory, the Bulldogs faced a few challenges, particularly on special teams. Miscues, such as mishandling a shallow kickoff, a missed field goal, and giving up two long kick returns, revealed areas for improvement as the season progresses.
On the opposing side, the West Orange did manage to find some success on offense. A.J. Brown's 63-yard touchdown in the second quarter showcased his ability to make big plays. Additionally, a 15-yard touchdown pass from Jack Reilly to star wide receiver Jordyn Bridgewater, along with a 25-yard touchdown connection between Larry Miles and Devonte Anderson, highlighted West Orange's offensive potential.
In light of this dominant opening performance, the Deland Bulldogs are gearing up for their next challenge as they face powerhouse Daytona Beach Mainland in their upcoming home game. The West Orange Warriors, on the other hand, are preparing to host Orlando Oak Ridge in their own quest to secure victory in the regular season opener.
As the excitement of the new season unfolds, Bulldog fans and enthusiasts can expect to witness an exhilarating journey that promises to keep them at the edge of their seats. Deland set the tone with this impressive victory, the stage is set for an enthralling season of football action.